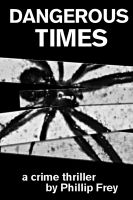 This thriller has so many twists and turns, I kept shaking my head and saying I did not see that one coming. Just when I thought I knew the plot Mr. Frey changes the directions. Mr. Frey is a master storyteller as he has to think paradoxically to weave back to the fantastic end. If you like murder, mystery and a chilling thriller do not pass up on this book. You will not be disappointed. You can purchase the book as www.amazon.com or at www.smashwords.com. The following is a description of the book:
"Dangerous Times is a multicultural crime-thriller with strong women characters, dark humor, and the pull of the unpredictable. This book is not for the squeamish. It begins as a creepy slow burner that leads to betrayal, sex, violence and murder.
Frank Moore is a diabolical criminal who has come up with an outrageous, malevolent plan. After a frustrating search he has finally found the key to its success. Frank has found his look-alike, a close-enough double: John Kirk.
In San Pedro, John Kirk leads a troublesome life, common troubles that escalate to the dreadful when Frank Moore comes to town. John Kirk, hunted down and pegged for death without knowing why.

"
Tomoson.com
I received one or more of the products mentioned above for free using
Tomoson.com
. Regardless, I only recommend products or services I use personally and believe will be good for my readers.