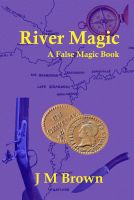 River Magic: A False Magic Book by JM Brown
What an entertaining book. I was captivated with the characters. I must be a very big young adult because this is the type of book that I like. Two orphan pre-teens are making it on their own as scavengers and thieves until they meet the mysterious Mr. Wilson and he becomes their benefactor. The condition is they travel together as friends where color has no barrier. That is because in this altered history slavery is abolished early after the Revolutionary War.
This book and author have the distinction of being the Winner of Best Young Adult Novel of 2012 by Maryland Writers' Association.
It rightly deserves the title. JM Brown weaves a tale of mystery and suspense and a smidgen of rivalry between the girls. It has old world charm and chivalry. There is a neighborly graciousness and then there are the bad guys. The book is available at www.smashwords.com and www.amazon.com
Here is the product description:
Aimee and Brenda, fourteen-year-old orphans, meet in an alternate history version of St. Louis, Missouri Territory in 1822.
In this alternate history, slavery was abolished with the ratification of the U. S. Constitution in 1791. The Iroquois and Cherokee nations fought on the side of the colonies during the revolution and have retained their independence and formed an alliance with the United States against the western savages and the great powers of Europe.
While seeking a lost letter, the girls become involved in a conspiracy against the alliance.
I received one or more of the products mentioned above for free using
Tomoson.com
. Regardless, I only recommend products or services I use personally and believe will be good for my readers.